blog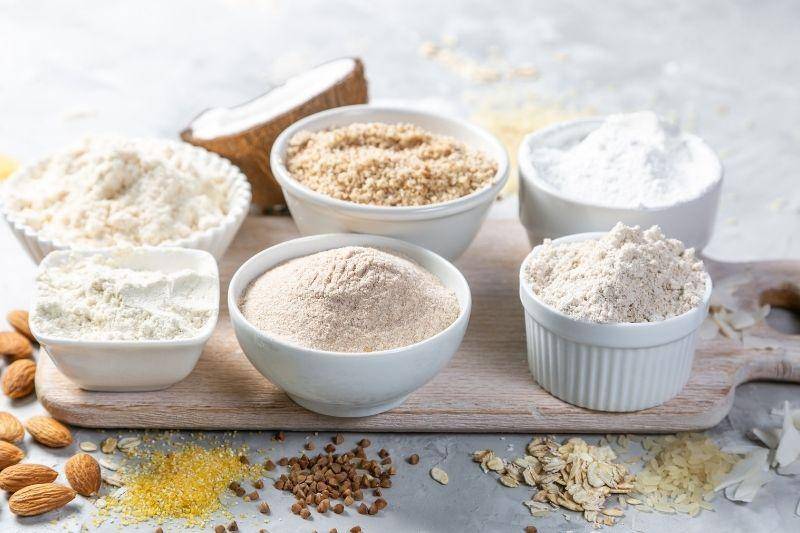 Going gluten-free? The wide variety of new alternative flours will make it easy and fun to enjoy a nutritious and delicious diet.


Discover how to make the simple transition to healthier eating while enjoying familiar foods as well as trying new dishes with these naturally nutrient-rich flours.
Besan, or gram flour is made from ground dried chana dal, or split brown chickpeas. It is a staple ingredient in Indian cuisine, where it is used to make roti and naan. Besan flour is lower in carbohydrate than regular flour, and a good source of cholesterol-lowering fibre, protein, folate and magnesium. It has a stickier texture than all-purpose flour when added to wet mixes, which makes it useful as a binder for veggie burgers, and a thickener for sauces and soups.
Buckwheat is a highly nutritious whole grain, supplying good quantities of protein, fibre, and the B-group vitamins, especially niacin, which converts carbohydrates to energy for the body's cells to use. Buckwheat is used to make noodles as well as flour. Studies suggest that buckwheat helps to lower blood pressure and manage blood glucose levels, which can improve heart health. Buckwheat is also a good choice for weight management because it encourages satiety – the feeling of fullness.
High in fibre, low in carbohydrates and with a neutral flavour, 'cauli-flour' can be substituted for any flour and used to add goodness and nutrition to bread, cakes, pancakes, muffins, pizza bases and biscuits. It is a good source of vitamin C and a great choice for Paleo and keto dieters, or anyone who wants to cut down on carbs in their baking.
Cassava flour is made from a root vegetable native to South America. Being nut-free, grain-free and gluten-free, it is a great choice for anyone with food allergies or intolerances. It is also a good source of vitamin C, nerve-soothing magnesium and resistant starch, which research suggests can improve gut health by helping to boost production of beneficial gut bacteria
Almond flour (also known as almond meal) is highly nutritious, providing significant amounts of vitamin E, magnesium, protein, potassium and fibre. Its healthy monounsaturated fat content and high levels of calcium makes almond flour ideal for vegans as well as breast-feeding mums. Research suggests that eating almonds significantly lowers LDL ('bad') cholesterol while raising HDL ('good') cholesterol. Almond flour is recommended for anyone following a low carbohydrate diet and is an easy substitute in recipes for cookies, tarts and cakes and makes a great alternative to traditional schnitzel crumbs.
Made from dried coconut flesh, this flour is low in carbohydrates and rich in fibre and medium-chain triglycerides (MCTs), which help to maintain stable blood sugar, support healthy cholesterol and provide anti-inflammatory benefits.
Made from green bananas, this flour is high in essential heart-healthy nutrients, especially magnesium, potassium and vitamin E. It helps to lower LDL ('bad') cholesterol and improve nerve, muscle and colon health. It also supplies natural inulin, a prebiotic resistant starch which encourages production of digestive enzymes to nourish beneficial gut bacteria.
Information presented is for information purposes only and is not intended to replace advice or treatment from qualified healthcare professionals. The information is not intended to treat or diagnose. Always consult your healthcare professional before taking nutritional or herbal supplements. If you are pregnant, breastfeeding, have any allergies or diagnosed conditions, or are taking prescription medications, always consult your healthcare professional before taking nutritional or herbal supplements.