blog
What is Camu Camu and How Can It Help You?
Discover Its Benefits!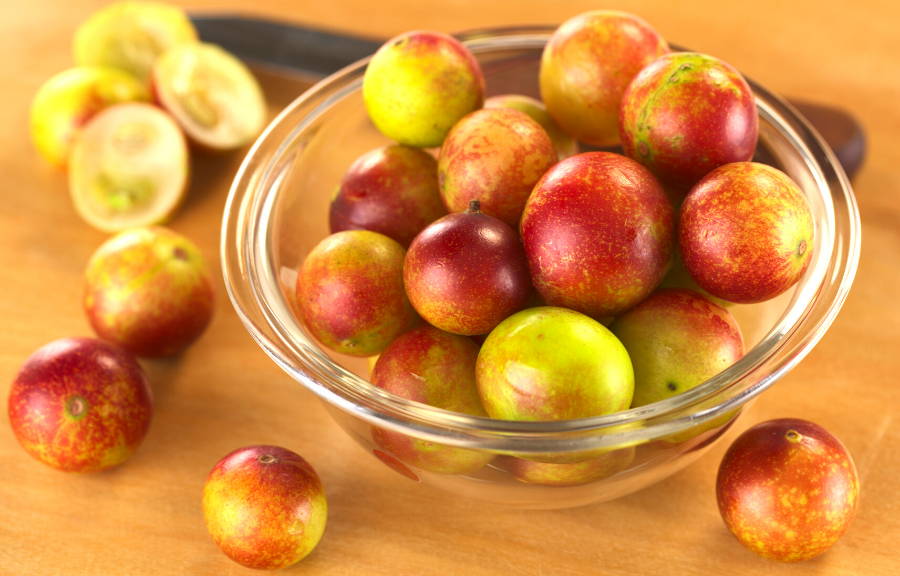 Discover how Camu Camu – the antioxidant-rich fruit can fight inflammation and boost immunity.
Camu camu (Myrciaria dubia) is a small, bushy shrub, bearing reddish-purple berries, that is native to the Amazon rainforest. The berries are one of the richest natural sources of vitamin C in the world – for example, oranges contain approximately 50 mg of vitamin C per 100 grams of fruit, while camu camu provides a whopping 10,000 mg of vitamins per 100 grams of fruit.
Vitamin C is vital for our health and wellbeing; it also needs to be supplied to the body daily from food sources, because humans are lacking in the functional enzyme that would enable us to synthesise it ourselves.
Nutritionist Cyndi O'Meara, founder of Changing Habits, set out to secure supply of camu camu for the company's wellness program and products. Her husband, Howard, travelled to South America and spent time exploring the area and establishing relationships with local populations who have long used camu camu as both a food and a medicine.
The camu camu berries sourced for Changing Habits are harvested by indigenous people using traditional methods, as part of a Fairtrade initiative. Changing Habits Camu Camu is available in a pure powder form for two reasons: one, this makes it more versatile, and two, capsules may contain dubious added ingredients, such as flow agents.
As a bonus, camu camu powder has a delicious citrus-y flavour which adds a refreshing zing to smoothies, raw slices, jellies, juice and much more – scroll down to see two delicious camu camu recipes to try!


Vitamin C is essential for the growth and repair of all tissues in the body, including skin, muscles, bones and blood vessels. A powerful antioxidant, it also fights free radical formation and thus reduces the risk of some cancers and diabetes, and helps to slow the ageing process.
Adding a teaspoonful of camu camu powder to your daily smoothie or other food is an easy way to ensure you are providing your body with optimal amounts of vitamin C.
Three other important benefits of vitamin C include:
Collagen formation An adequate intake of vitamin C is crucial for producing the amino acids that make collagen. Collagen is the most abundant protein in the body, and it is located in the muscles, skin, blood vessels, digestive system and bones – this is why vitamin C deficiency is a factor in spontaneous bone fractures, and also why adequate vitamin C levels play an important role in controlling osteoporosis. O'Meara adds: "Consuming vitamin C is critical to

maintain healthy skin, bones and optimal digestion. I also suggest that my clients include bone broth and gelatine in their dietary regime, for even better results."

Immune system support Vitamin C plays a critical role in a number of cellular activities that control the immune system: it possesses antimicrobial properties, boosts production and efficacy of natural killer (NK) cells, lymphocytes and phagocytes, and promotes chemotaxis (the immune response to antigens in the body). When the body is fighting infection or illness, vitamin C levels decrease rapidly; therefore, a deficiency leads to a higher possibility of contracting

pathogens which can result in illness, and also slows the body's ability to fight it off.

Brain protection Vitamin C is a critical antioxidant for the central nervous system, and it plays a role in reducing the risk of neurodegenerative disorders.
Help for adrenal health When the body is stressed, the immune system also becomes depleted and vitamin C levels decline rapidly, which can result in an increased likelihood of coming down with a cold, flu, or other infection or illness. Ensuring optimal intake of vitamin C will replenish levels in plasma and leucocytes, and also support adrenal function.
If you're looking for recipes that will add more vitamin C in your diet, here are two of our favourites:
Immune Boosting Camu Camu Smoothie
½ teaspoon Changing Habits Camu Camu
1 teaspoon Changing Habits Probiotics
1 teaspoon Changing Habits Colloidal Minerals
homemade vanilla essence, to taste
1 teaspoon maca powder (optional)
1 tablespoon chia seeds
½ teaspoon Changing Habits Cinnamon
½ banana
½ cup organic frozen blueberries
½ teaspoon honey
½ cup mix of fresh organic coriander and parsley (or one or the other)
¼ cup coconut cream
½ cup water (or ¾ cup of your preferred milk)
½ cup ice
Method
Place all the ingredients in a high powered blender, and process until smooth. If you are unsure whether your blender ensures nutrients aren't partly destroyed when they are blended, add the camu camu and




probiotics last because these are the most heat-sensitive.

Pour into glasses and serve.
Chocolate-coated Date and Coconut Energy Balls
2 cups walnuts (or other seed or nut of choice)
1 cup shredded coconut
a pinch of Changing Habits Seaweed Salt
2 cups Changing Habits Dates
1 teaspoon vanilla essence or powder
1 teaspoon Changing Habits Ceylon Cinnamon
1-2 tablespoons coconut oil
Topping
½ cup Changing Habits Cacao Melts
1-2 tablespoons coconut oil
1-2 tablespoons Changing Habits Rapadura Sugar
a pinch of Changing Habits Seaweed Salt
Method
Place all the ingredients for the ball recipe in a food processor or Thermomix and blitz together until broken down. You should be able to roll the mixture into balls easily. If the mixture is too dry, add a

touch more coconut oil or filtered water and blitz again until you reach your desired consistency.

Roll the mixture into balls and put them on a baking tray. Put the tray in the freezer for 15-20 minutes.

To make the topping, place all the ingredients in a small saucepan and melt over a low heat until combined, then pour into a small cup.

Remove the tray from the freezer. Insert a skewer into one of the frozen balls and use it to dip the ball into the chocolate topping mixture, before returning it to the tray. Repeat with the rest of the balls. Refrigerate to set, and then store the balls in an airtight container or in the freezer.


Information presented is for information purposes only and is not intended to replace advice or treatment from qualified healthcare professionals. The information is not intended to treat or diagnose. Always consult your healthcare professional before taking nutritional or herbal supplements. If you are pregnant, breastfeeding, have any allergies or diagnosed conditions, or are taking prescription medications, always consult your healthcare professional before taking nutritional or herbal supplements.